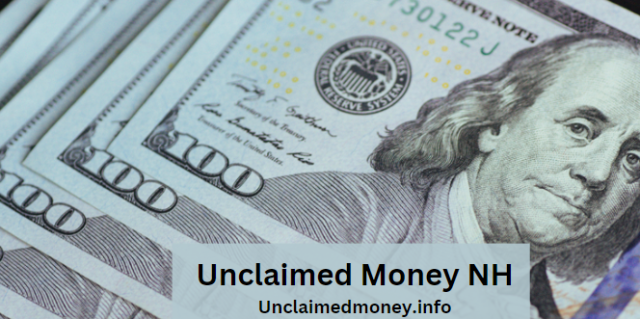 Unclaimed Money NH: The Treasury Department of New Hampshire expressed surprise at the number of people who don't know they have extra money waiting to be claimed. In the past decade, more than $65 million in unclaimed money was returned to its rightful owners. This is just in New Hampshire.
Unclaimed bank accounts accounted for almost $190,000. However, this title is usually reserved for unclaimed money. It's as unique as the number of people who go through their lives without knowing they have unclaimed money left behind by deceased relatives.
These people might be you, so start looking!
Types of unclaimed money in New Hampshire
A person, company, organization, or bank can acquire property that the rightful owner cannot locate. They are required by law to report the property to the state's Treasury department. The dormancy period is usually five years long. It is considered abandoned after the dormancy period ends, and the money holders report any unclaimed property to the state.
Each state has its own dormancy period, which varies depending on what type of property. The following table provides a quick overview of the Unclaimed Money types in New Hampshire, as well as their dormancy periods.
| | |
| --- | --- |
| Type of Property | Dormancy Period |
| Wages, payroll, and salary | One year |
| Checking and savings accounts | Five years |
| Security deposits | Five years |
| Uncashed checks (traveler's checks excluded) | Five years |
| Court deposits | Three years |
| Health savings plans | Five years |
| Insurance | Five years |
| Traveler's checks | 15 years |
| Safe-deposit box proceeds | Five years |
| Utilities | Five years (except for utility deposits, for which dormancy period is one year) |
| Trust and investments | Five years |
Some property cannot be unclaimed. This includes:
Motor vehicles

Land

Furniture

Vessels
How to Start Looking for Unclaimed Money in N.H.
Union Leader reports that New Hampshire published a list containing more than 25 000 names and a value of over $14 million.
If you feel that some of it are yours, the New Hampshire State Treasury's Abandoned division should be your first point.
The following steps will help you determine if New Hampshire has your money in its treasury.
Click on the Get Started link at the top of the State Treasury website.

Enter your last name, or the name of your company

Please provide the property I.D.

To narrow your search, add your city and first name.

Hit Search
The provided information will include a list of unclaimed properties and other pertinent information.
How to Claim Found Money in New Hampshire
After you have found unclaimed money that you believe is yours, click the Claim button. You will need to choose the Claimant Relationship in order to proceed.
Check out the information required to file a claim.
Claimant type

Last name

First name

Email address and confirmation

Number to call at home

Country

City

ZIP code

Address at home
You will need to prove ownership by providing proof such as a government-issued photo I.D. or proof of Social Security number. Other documents may be required depending on the relationship.
What is the cause of New Hampshire's lost money?
There are many reasons people lose track of their assets. New Hampshire residents are no exception. Here are some reasons people lose track of their money.
They move without notifying the landlord before they do so and forfeit their deposit

If a company closes, employees cannot claim their pensions or other funds

People lose their remaining paychecks from former jobs

Customers can change their addresses and phone numbers without notifying money holders

Many people forget to take out life insurance or don't realize they can be a beneficiary in someone's will.
UnclaimedMoney makes it easier to claim your money faster.
It can be difficult to find lost assets. Many people don't want to start the process. This is what we thought of when we designed our tool for locating and claiming money.
You can claim your money with the Missing Money feature without having to go through complex procedures or divulge your Social Security number.
Access UnclaimedMoney using any web browser to find unclaimed money.
Open the Missing Money section

Please enter your full name and address, as well as any previous addresses.

Hit Search
After you have completed this, we will start a comprehensive search of various state and federal databases. If your search is successful and you find funds under your name, you can use the Claim My Property feature, and we will file a claim for you.
Other options for tracking your N.H. unclaimed money
There are many databases and organizations that specialize in unclaimed money. If you have any questions about where and how your money went missing, you can find the information you need here:
For any tax refund money not claimed, contact the Internal Revenue Service of New Hampshire or the New Hampshire Department of Revenue Administration

The National Registry of Unclaimed Pension Benefits is a public service organization that assists people in finding lost or forgotten benefits from their previous jobs.

You can search the Find a Trusted Pension Plan database of the Pension Benefit Guaranty Corporation to see if a company that you worked for owes money for a failing pension.

Search for unclaimed insurance policies at the Federal Deposit Insurance Corporation.

Search the National Association of Unclaimed Property Administrators (NAUPA) database to find any unclaimed property.
UnclaimedMoney and Other Administrative Problems
People have been awarded millions of dollars in unclaimed money. Although this is rare, most people have more than $100 in unclaimed assets. UnclaimedMoney is a top-rated company when it comes to claiming this cash.
This doesn't mean that the state of New Hampshire is excluded. To claim your property in the U.S., you can use our Missing Money function.
Also Read: